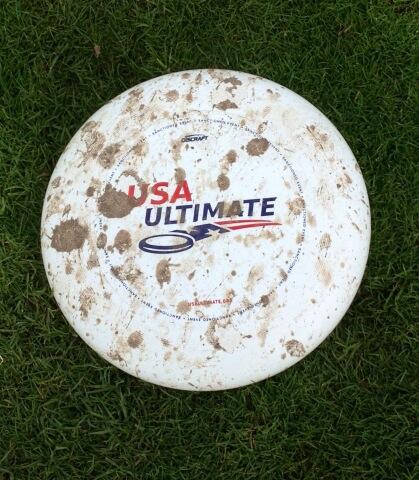 The culmination of an exciting season in Southeast Women's, Regionals finally took place this past weekend. There were a lot of uncontrollables that took the teams away from the ideal: a postponement that left a lot of teams scrambling to find ways to keep their rosters flush, rains for the days leading up leaving the fields soggy & muddy, a shockingly beautiful Saturday morning, followed by a chilly and drizzling Sunday that kept the fields waterlogged, and a seven team format that made pool play a two day round robin. Making the best of a weekend that is built up, prepared for, and fantasized about all year is its own sort of mental game. Seven teams had to win that one, and beat the best teams in the region (that could attend), and claim whatever glory awaited them.
For those who haven't checked them, UltiPhotos has some fantastic shots from the weekend, done by the talented Christina Schmidt.
Recap
A great weekend was not without flaws for Georgia Dawgma. This team showed up with their full roster and a cadre of fans in tow, a nice advantage to combat the battle vs. uncontrollables. They beat Florida and Florida State by six a piece, and rolled out early enough against Central Florida in the Final that they folded. Essentially, when they played the top ranked teams, they played very well. For a team with aspirations for the big show, that is an important trait to demonstrate to yourself. Central Florida kept it close in Pool Play, and while Georgia came out 9-7, the game was a 5-5 battle where Georgia could never really separate themselves. It is tempting to say this is more a reflection of the Sirens than Dawgma, but two other games give pause to that: Emory and Georgia Tech. Saturday's battle with Emory was one of the tournament's most exciting games. Emory went into high gear and Dawgma had to recollect to keep from letting it get out of hand. They took control, and didn't relinquish it, but they came close, winning 13-11. A similar pattern played out in Sunday's sluggish conditions, going down early, taking the lead, and then not putting away a weaker Georgia Tech team; this game, however, was irrelevant to standings, so not sure how Georgia approached it. The focus should definitely be on this team being the best in the Southeast.
In contrast, the Central Florida Sirens put on a consistent performance, beating the lower seeds solidly, but really having to fight the other top teams. Against Florida State, they actually played catch up most of the game, trading after going down early. However, with the game at 9s, they made a three point run to end it. They would then go down early to Florida, 0-3, on Sunday. Now, this game, like UGA's against GT, didn't matter really, and the Sirens would take half 7-5 and win 9-6. They were overpowered by Georgia in the Final, an intense game quickly getting out of their reach. Against Florida in the game to go, UCF would win 13-5, but the game was closer than that score reflects – a common theme on Sunday – with a few breaks falling the Sirens' way. Still, you can't take away that this team proved themselves the second best team in the region and their only losses were only to the one team probably stronger than them.
This weekend's results were a surprise to most, but not to Florida Fuel. They were confident they could beat the top teams in the region, and opening with a double game point loss to Florida State, while disappointing, was also proof of that. They set a great tone for their weekend. The Georgia game didn't go as they would have hoped, but they didn't look totally overwhelmed either. They took care of business against Tech and didn't falter when they ran into Emory coming off their Georgia game. The only real surprise was Sunday morning, where a terrible case of the dropsies rendered their top end players unable to get any traction against a capable VUDU squad. The Vanderbilt game came as a definite shock and put FUEL in danger of missing the bracket. However, things worked out in their favor, and they took advantage. Whatever issue they had in the Vandy game infected Florida State for their backdoor Semi. FSU went up 3-1, with some of the fresh legs of their studs having just arrived that morning, but from there, the Seminole Ladies just couldn't keep it together. I'm not sure what happened at such a crucial game, but they fell apart and FUEL walked from there, winning 9-5. The game to go saw the Florida ladies bidding for everything and giving what they had, but some bad luck and tired legs might have been too much to get past with Central Florida on the opposite sideline. They are likely pleased with the weekend, however, and proved they have the young talent to be in the picture again next year.
The other side of that is Florida State Seminole Ladies Ultimate team, who have to be pretty beat up physically and emotionally. Hard hit by the postponement, they were missing two of their top five players on Saturday and some other rotation players. They barely got by FUEL in round one, couldn't hold on against Central Florida at the end of Saturday, and were put down by Georgia despite a full FSU effort. They did get back Lauren Collins, SJ Campbell, and some other notables on Sunday, which I thought would lead them to more success. Their fumbled game against Florida must have left them feeling helpless – oddly enough, Emory had some of those exact issues against Florida State in the round prior – and frustrated. No doubt, they didn't expect their season to end where it did. However, there are some good signs for this group's future.
I think most people didn't know what to expect from Emory Luna, and they made a strong impression without making any real impact. They didn't have any trouble with shorthanded Georgia Tech or Vandy squads, making them perhaps look like they belonged in the top five rather than the bottom three. They gave Georgia easily the toughest test of the weekend, battling every step of the way, but ultimately fell short, 11-13. The letdown carried over to the FUEL game, where they never really got their footing under them. They were pretty helpless against Central Florida's zone and transition offense combo on Sunday, but then fortune smiled on them. Florida's loss to Vandy meant if Emory beat Florida State, they would break seed and be in contention. That obviously didn't work out, but they played better against FSU than that score indicates. An oddly successful weekend for them considering they went 2-5 (forfeiting their 5th/6th game against Tech to go study for finals).
I'm afraid we won't really know what Georgia Tech or Vanderbilt were capable of. Tech had eight players Saturday, with some very notable absences, including Leah Tsinajinnie (graduation). Vanderbilt had only nine. Both made their mark on Sunday, but ultimately, weren't able to show their full arsenal.
Reactions
Georgia and Central Florida both have the makeup and resume of teams that should be middle of the pack at the College Championships. I'd be very surprised if they finished near the bottom but equally surprised if they made a run deep into the tournament. I still have concerns about Georgia's health, as they seemed to be nursing injuries throughout the weekend. Amble Johnson will have them very prepared for the competition, but he's not a magic healer. Central Florida has shown the capability to beat top teams but some consistency issues have plagued them. I do have questions about how they match up defensively when forced out of their very strong zone defense; their transition offense coming out of that zone is incredibly effective. I'll probably do a more detailed analysis in the coming weeks.
Looking even further into the future, it is really hard to say what the Southeast will look like next year. I'm no Southeast historian, but there is a massive amount of talent leaving – possibly the strongest class ever. Georgia's group of seniors could probably win the region by themselves, as much a comment on their ability as their numbers. Central Florida will still have Katie Fox and Amy Price, but that's a far cry from the trove of talent they have now. The Fane/Dahl era of Fuel will end, and that's a tough adjustment to make for a young team. Florida will still have a strong stable of downfield playes, but can Alana Hardeman shoulder the throwing load?
For those outside of Regionals, I'm sketchy on details, but I believe all of the Gulf Coast's major players are losing their stud handlers that power their offenses (Tulane's Stephanie Hurwitz, Vanderbilt's Emily Dayton, Alabama's Abby Sedlacek, Auburn's Katie Cuson) and South Florida also has a large senior class, featuring Teal Dabney and Tessa Walter. Georgia College's and Tennessee's small rosters are seeing their top players move on as well.
Super early, mostly baseless, prediction is that Florida State is the team to beat next year. Kristin Lloyd will probably be the best player in the region come spring, and they'll have Kari Tomarelli, Skylar Taggart, Kearstin Rew, and Alleigh Grover in big roles. Tomarelli, in particular, is one of the region's rising stars. Georgia Tech has added so much young talent and, after Tsinajinnie, their handlers are all returning. They'll come into the year with a trio of handlers ready to go and Donnya Ajdari downfield, and could threaten to win SAPP. Emory's status is also up in the air, and with so much uncertainty for them and Georgia, it should be noted that the SAPP should be really interesting.